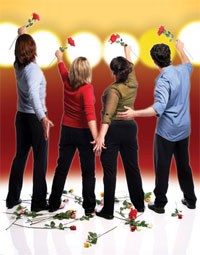 The 2007 Melbourne International Comedy Festival is winding down, and for me at least it has been a festival to remember.
Having recently joined the ranks of Impro Melbourne's talented ensemble, this was the first Festival where I took to the stage! Joining on opening night the cast of Impro Melbourne's production of Smells Like a Song was a privilege … not to mention a blast!
Making the occasion extra special, my parents had arrived in town just in time to see me in an impro show for the first time—an improvised musical, no less! The pressure was on, but as always happens when I hit the stage to improvise, my mind went blank and I forgot they were even there.
Although Smells went on to have better nights (including a closing night that nearly brought the house down), it seems my new blood made a good impression on my fellow improvisers, because I've since been cast rather heavily in the upcoming season of Unforeseen Stories,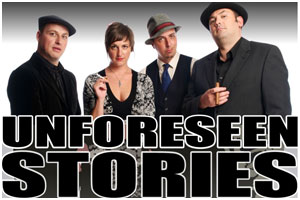 which starts next week, hot on the heels of the Festival!
But by far the greatest moment of this Festival for me was the "Impro Love-In Jam" organized by Lliam Amor and Janelle Koenig, where all the Australian improvisers in the festival were invited to rub elbows, play games and shout each other drinks. The three hours sped by, and a few new bridges were built between Melbourne's traditionally insular impro companies.