Fix "format not supported by the iPad" error on transferring iTunes movie rentals
For the past several months, I've had an ongoing issue with iTunes, where TV shows that I purchase from iTunes download, but then are unplayable with the error "This movie requires QuickTime, which is not supported by this version of iTunes." Emails to iTunes support have not yielded any response, but I've found a work-around, which is to delete the episode from iTunes, tell iTunes to keep the file, and then add the file back into my iTunes library, after which it is playable.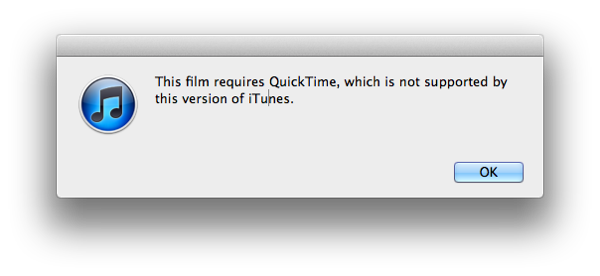 In preparation for an upcoming long-haul flight today, I rented a couple of HD movies in iTunes on my Mac, and attempted to transfer them to my iPad (3rd generation). In case you didn't know, you can do this on the Movies tab (it's labeled Films in the UK English locale) for a connected iPad in iTunes:

At first, it seemed as if the format of HD movie rentals from iTunes was incompatible with the new iPad. The error I was getting was "the video format is not supported by the iPad", although when the iPad sync only caused a single error, I got a different message: "it cannot be played on this iPad."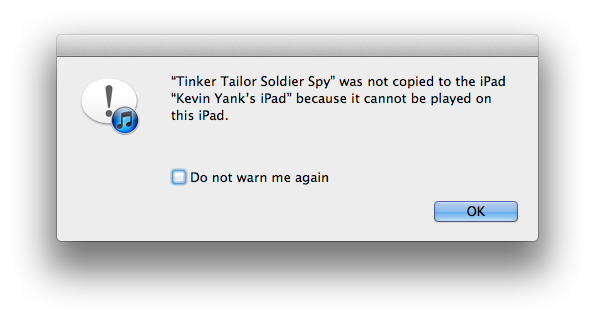 A few Google searches suggested that, indeed, iTunes HD movie rentals (even the fancy new 1080p ones) should play just fine on the new iPad. After all, it has more pixels than the 1080p TV you probably have in your living room!
After spending a few minutes thinking what a bother it would be to watch these movies in my plane seat on my 15" MacBook Pro (first world problem, anyone?), I noticed that none of my movie rentals were showing artwork in iTunes, and I remembered the persistent issue I have with TV shows downloaded from the iTunes Store. Could something similar be happening here? I couldn't check by trying to play the movies, because doing so would kick off my 24-hour rental period (48 hours if you rent from a non-US iTunes store), which I wasn't ready to do, but I could try my work-around, right?
Deleting the movies from iTunes and re-adding them was going to be tricky, because when you delete a rented movie in iTunes, it doesn't offer you the option to keep the file. It just deletes it. The trick is to locate the file in Finder (go into the Rentals list in iTunes, right-click on the rental and choose Show in Finder), use Get Info to open the inspector, and check the Locked checkbox to make the file read-only.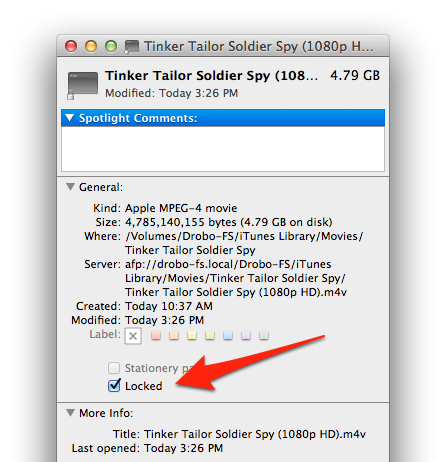 Now I could delete the file safely in iTunes, then drag it back in to iTunes to add it back into my library. If you use this trick, don't forget to unlock the file afterward, or it will end up stuck on your hard disk taking up space. The movies now had artwork, and would transfer to your iPad without complaint.

I'm ready for my flight! :)